Fighting Quarantine Fatigue by Planning Ahead
May 15, 2020
Please join me in welcoming the newest members of the flock:
Mercersburg Academy – Mercersburg, PA – Maria Kimsey and Danielle Nordyke
Sewickley Academy, Pittsburgh PA – Karen McAvoy
Winchester Thurston School, Pittsburgh PA and Allison Park, PA – David Wollam
Quarantine Fatigue is Real! While exciting at first, being at home with family is not what we expected. Many of us had grandiose plans for cleaning and organizing, getting to projects that we normally don't have time to complete, engaging in hobbies that have been put on the back burner, getting into a regular exercise routine, just to name a few. I don't know about you, but I have done exactly none of those things, and I am not apologetic about it. Here's why -- we are busy with living and working in the new normal – new routines, new responsibilities, new problems to solve, new technology to master, new lessons to teach, well, you get the gist.
Here's How to Cope, and let's give ourselves a collective break! In a conversation with my colleague Debra Wilson, President of SAIS and former legal counsel for NAIS, she talked about the importance of self-care and how after school closes for most of her schools, she and her staff are taking a week off before diving into the hectic summer schedule and focusing on helping schools reopen their campuses in the fall. Food for thought as we think about ways to recharge and refresh so we are prepared for the uncertainty of what lies ahead this summer and fall.
Speaking of uncertainty, the lack of guidance and information which exacerbates the ability to make meaningful assumptions about the financial future of our schools and universities is heightening the anxiety for many of us. As we try to stay ahead of the information curve, McKinsey provides three scenarios to consider with implications for teaching and learning, student enrollment, equity and experience, faculty and staff, finances, and infrastructure: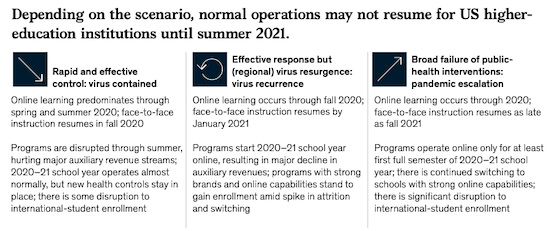 With scenarios in place, your "plan ahead" team can confront uncertainty head on, and work across time horizons using five frames:
Gain a realistic view of your starting position. Keeping in mind:
Financial assumptions
Ongoing initiatives
Strategic choices
Develop scenarios for multiple versions of your future
Stress test each scenario
Identify where your institution is most at risk and most resilient
Estimate shortfall in the worst-case scenario.
Establish your posture and broad direction of travel.
A Big Idea that will bring coherence and determination to your evolving tactical response.
Determine actions and strategic moves that are robust across scenarios.

Portfolio of several dozen strategic moves, ranging from no-regret moves to point-of-no-return moves that can irreversibly alter the future of the institution.
Tabletop exercises or workshops that force decision makers to engage on the very real possibility of pulling the trigger on moves that may appear unlikely at the moment.

Set trigger points that drive your organization to act at the right time.
As always, PAISBOA is here to support your modeling and plan ahead strategies and tactics. Here are some of the tools you can find in the PAISBOA COVID-19 Resources Page:
Financial Modeling Tool:

 In conjunction with our colleagues from Cal-ISBOA and MISBO, PAISBOA is offering a customized financial modeling document that centers around best practices for forecasting and leveraging the information you already have to understand and predict what comes next.
Armanino's Private School Financial Framework Toolkit is free to PAISBOA members for 90 days, and can help Business Officers forecast the impact of COVID-19 on their tuition revenue, financial aid and enrollment numbers - with the click of a button.

SAIS Template for Planning for Back to Campus

 allows you to map out a phase-in plan for returning to campus.

SAIS Days Away From School Tuition Calculator

 allows you to calculate tuition discounts based on days away from campus which was discussed as an option at the Early Childhood program this week.
The Centers for Disease Control just released an updated 

Schools and Child Care Programs

 site which contains helpful information and several "Decision Trees" you can use:
As the southern schools are ahead of us in reopening their schools, PAISBOA-ADVIS-PAIS will host Debra Wilson, President of SAIS, to talk about Planning for Reopening for smaller schools (< 250 students) on Thursday, May 28 and larger schools on Wednesday, June 3. You can register for either program by clicking on your preferred date.
We look forward to seeing you on the Monday Morning Coffee Break at 10:00 am, and please continue to share your ideas and strategies on the e-lists for Business Officers, HR, Technology, Plant and Operations, Auxiliary Programs, and Sustainability.
Stay Healthy and Take Advantage of the Power of the Flock!

Share this post: